Pros And Cons Of Dating A Fisherman
Are you ready for dating a fisherman? Is it because you love to eat fish, or do you love the person? Whatever it is, there are things you need to know before embarking on that lifelong journey. To be successful in your endeavor, you need to know these ten things.
1. They Wake Up Early
Before you say yes to his proposal, know that fishers wake up very early before sunset. It can be as early as 4 am or earlier, depending on how close you are to the river or sea.
It means you won't have the leisure to see him most of the time because fishing is his profession. But for those who pursue it as an interest, the weekend is their fishing day.
2. Planning Dates on Weekends is a No
As already mentioned, people who do fishing as interest do that on weekends during fishing seasons, unlike the professional fishermen who does it almost every day.
So having the pleasure of spending the weekend with him is almost impossible. But he will be on the river in search of fresh fish. Do not plan dates on the weekend else. You will be disappointed.
3. You Need to Have Patience if you are Dating a Fisherman
Canceling dates and leaving home early in the morning can be very annoying and a turn-off point. But in all, you need to exercise a level of patience. So being angry and fighting him all the time on such issues will drive him away from you. If you have a point or issues to resolve, do it, but patiently.
4. You Will Go Fishing With Him
Are you ready to wake up early in the morning for a fishing expedition? Well, you have to as you consider dating a fisherman. You will have to join him fishing during the weekend.
So this can be a great way to spend lovely moments together. He was making a mistake for a fish to escape. He was yelling at you at some point and had that big catch. This can be an extraordinary moment together.
5. Fish Will Be Your Main Source of Protein
Don't expect to be eating meat while there is a stock of fish in the fridge. So do you want the fish to go to waste? If you don't like fish, then dating a fisherman is a no-go area because your primary source of protein will be fish, fish, and fish.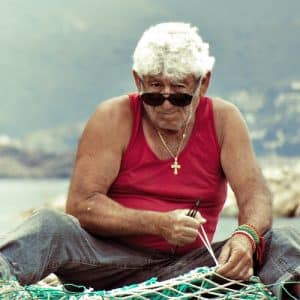 6. Don't Come Between Their Fishing
If he also loves you, but please know your limit. So fishing is their fish love, and you need to accept it. But don't intrude into his fishing life else. You may have to witness his other side.
7. On The Flip Side, Don't Take Banana To His Fishing Boat
If you are joining him for an expedition, it is a great idea to stay together. But you can take anything with you except a banana. By taking a banana to the boat is like signing an injury warrant. If you mistakenly leave the banana peel on the boat, it is highly possible to step on it and for the result; your guess is as good as mine.